Bio
Michael Hosale is a certified professional ballroom dance instructor. After starting at a young age, he now has over 20 years of experience. He was born and raised in the Nashville, TN area, but has traveled the world coaching, training and competing as a professional dancer. He competed professionally with his wife, Sheri Melvin Hosale, in American Smooth and American Rhythm. As a pro/am competitor he has competed in all styles of ballroom dancing, including Standard, International Latin and Country and Western.

Although a top-ranked competitor, Michael's passion lies in helping his students reach their dance goals. While working in a franchised studio, he received several awards, including top instructor in the organization for several years. His dedication to helping others reaches beyond the ballroom by his contributions to several charities, including Safe Haven of Nashville. When he's not in the ballroom, he enjoys rock climbing, helping his son's Boy Scout troop and spending time with his family. He is currently teaching in the Franklin and Nashville, TN areas.
---
---
Platinum Weddings
Michael choreographed three dances for Ray and Amanda Robinson's wedding, featured on Platinum Weddings (Season 2 Episode 12). The video below shows the couple practice for their big day, which was 07/07/07.
*Michael's wife, Sheri, went platinum blonde in honor of the show.
---
The Tennessean
"Titans' Alge Crumpler Uses Dance Lessons to Improve Game"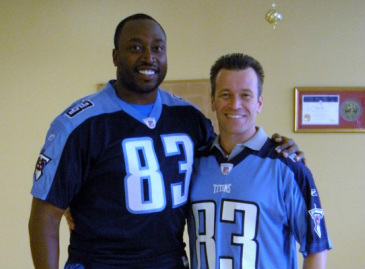 Alge Crumpler might look a little heavier these days, but the Titans tight end has never been lighter on his feet.

If you don't believe it, then you haven't seen him do the Cha-Cha, the Salsa, the Swing or the Sexy Rumba.

Michael Hosale worked with Crumpler and his wife this offseason. He was impressed with the big man's footwork even before he saw Crumpler toeing the sideline after making a catch against the Bills last Sunday night.

"He moves extremely well," Hosale said with a smile as dance music played in the background. "Give me 10 guys like that, big football players, and not every one of them is going to move like Alge. Some of my students who've been dancing with me longer were amazed at how well he moved across the floor.

"I told Alge, 'If Dancing with the Stars ever asks you to be on, you should definitely do it.' ... And watching him (Sunday), I think some of those dancing steps he learned paid off. He got a couple extra yards."

Crumpler had predicted Hosale might take some credit for "my nimbleness at such a hefty size." The fact of the matter is the ninth-year pro has displayed nifty footwork for years.

He couldn't help but chuckle when he realized his dancing secret was about to spread. So when the subject of his weight came up, well, he danced around it like Fred Astaire.

"I don't want to get into a weight battle," said Crumpler, who's listed at 262 pounds but admitted he's nowhere close to that. "I won't give up my weight. Talk to LenDale (White) about his; he'll talk about it, but I won't. And I don't want to make an issue out of it either.

"As long as I am doing everything I am supposed to do -- and I am -- the production speaks for itself. ... That's the bottom line."

On Monday, Titans Coach Jeff Fisher said he'd like to see Crumpler get back to last season's weight but complimented his mobility.

Chances are Fisher doesn't pay much attention to the football benefits of dancing, though General Manager Mike Reinfeldt might. He's also taken lessons with Hosale.


Source: Author, Jim Wyatt (August 14, 2009) Titans' Alge Crumpler Uses Dance Lessons to Improve Game.The Tennessean.
---
Dancing with the Stars Nashville
Michael has participated in the Feed America First charity since 2010.
*More videos and pictures coming soon